Captain "Red ED" Brennan's Favorite Scallop Recipes
Grilled Scallops on the Half Shell
50 fresh bay scallops still in the shell
1/4 cup of Extra virgin olive oil
½ tsp of salt
1/4 tsp of pepper
2 cloves of fresh garlic (finely minced)
1tbsp of fresh herb of choice - chives, oregano, Italian parsley or thyme
*can also do a mix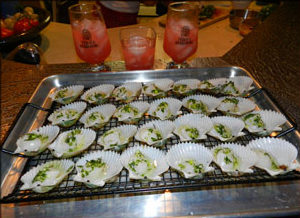 Rinse scallops in cold water, remove top shell with a spoon or knife (be sure to scrape white meat off of top shell before pulling off so not to tear the scallop muscle in half), pull or vacuum all of the inside of the organs except the white muscle; leave it attached to the bottom shell. Rinse with cold water and line the scallops on the half shell on a metal mesh pan (the kind used for grilling vegetables on the grill), shell side down.
Mix the extra virgin olive oil with all of the ingredients and stir until blended well. With a basting brush, brush some of the mixture onto each scallop. The grill should be about 325 degrees, place on indirect heat and close lid. Check after no more than 2 minutes as some may cook quicker than others. Once the oil is just lightly sizzling pull off, let cool for a minute and enjoy! They can be eaten right out of the shell no utensils needed.
2 tbs. Extra virgin olive oil
1 lb fresh bay scallops
2 blood oranges, segmented with their juice
½ Meyer lemon, juiced
1 bunch pea shoots and pea pods
salt and freshly ground black pepper
In a saute pan over high heat, add the olive oil. Add the pea pods and cook until almost done about 3 to 4 minutes constantly flipping so not to burn. Add the bay scallops and continue to rotate every 10 to 15 seconds for about 2 to 3 minutes until almost done. Deglaze pan by adding the blood orange segments and its juices. Stir for just seconds until all ingredients are coated. Place on serving plates and garnish with pea shoots and season with salt and pepper to taste.
Scallops (or Shrimp) and Grits
4 cups water
Salt and pepper
1 cup stone-ground grits
3 tablespoons butter
2 cups shredded sharp cheddar cheese
1 pound scallops (or shrimp)
6 slices bacon, chopped
4 teaspoons lemon juice
2 tablespoons chopped parsley
1 cup thinly sliced scallions
1 large clove garlic, minced
Bring water to a boil. Add salt and pepper. Add grits and cook until water is absorbed about 20 to 25 minutes. Remove from heat and stir in butter and cheese.
Rinse scallops and pat dry. Fry the bacon in a large skillet until browned; drain well. In grease, add scallops. Cook until scallops done. Add lemon juice, chopped bacon, parsley, scallions, and garlic. Sauté for 3 minutes.
Spoon grits into a serving bowl. Add scallop mixture and mix well. Serve immediately.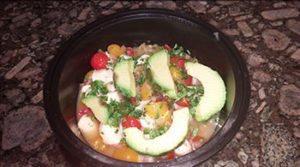 Toss 1 pound bay scallops, 2 diced green tomatoes, 2 minced shallots, 1/2 minced jalapeno, 1/3 cup lime juice, 3/4 cup orange juice and 1-1/2 teaspoons salt in a glass bowl. Cover and chill, stirring occasionally, 4 to 6 hours. Add salt, pepper, and chopped cilantro. Top with sliced avocado.